LIST OF PLANT AND MACHINERIES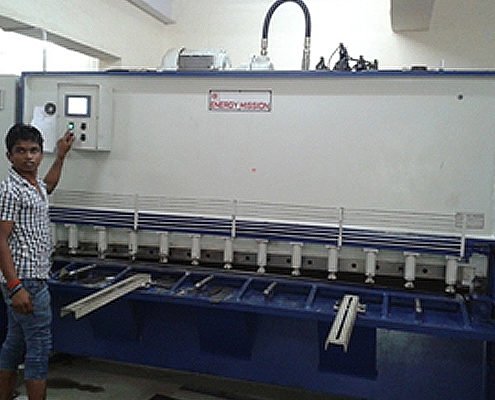 CNC CUTTING MACHINE
ENERGY MACHINE MAKE
HYDRAULIC SHEARING MACHINE WITH BED LENGTH 3000MM AND CUTTING CAPACITY OF 8MM THICK MS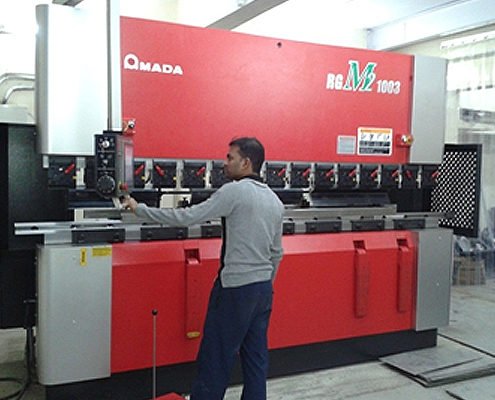 CNC SHEET BENDING MACHINE
AMADA MAKE 100 TON CAPCITY 3 METER LENGTH BED , WITH NECESSARY GOOSE NECK PUNCH AND  "V"  BLOCKS
UNIPUNCH MAKE 20TON CAPACITY,
Set of UNIPUNCH make piercing holes dies for making louvers ,round holes, and notching.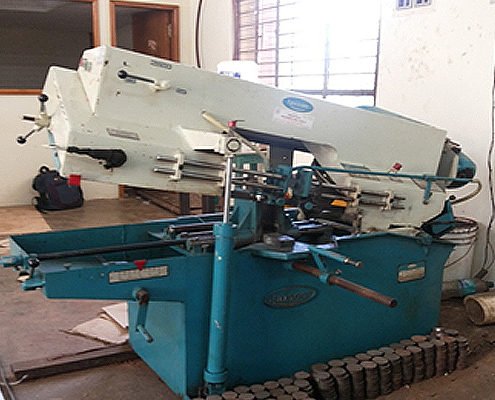 PREMIER make drilling machine of capacity 25mm-2nos.
PREMIER make heavy duty machine with 2HP motor -2nos.
LAXSON make circular power hack saw with 1HP motor.
KEMPI make MIG welding M/c(400A
SAI TIG/ARC welding M/c (300A)
SAI MIG /ARC welding machine (400A)
ESAB MIG welding M/c(250A).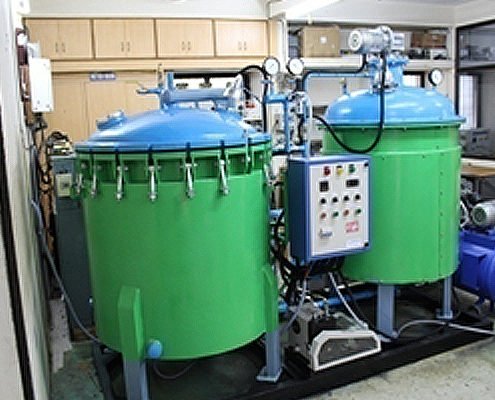 KG ENGINEERING make vacuum impregnation plant    400ltrs  capacity .
SEMCO make 0-250°C, 9KW of scientific equipment size 1200X1000X1500MM.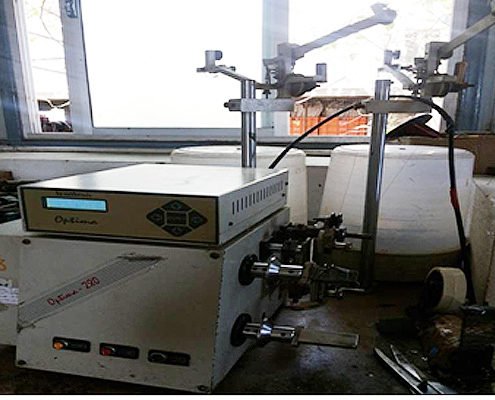 SYNTHESIS make CNC coil winding machine, 2 spindle ,side loading-1NO .
SYNTHESIS make CNC coil winding machine , 2 spindle ,side loading -1NO.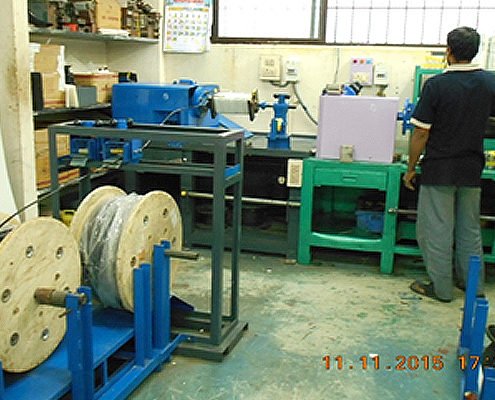 Heavy duty motorized coil winding machine -2NOS.
Analog bench type , moving iron , class1.0, ammeter AE make 2.5A&5A AC ,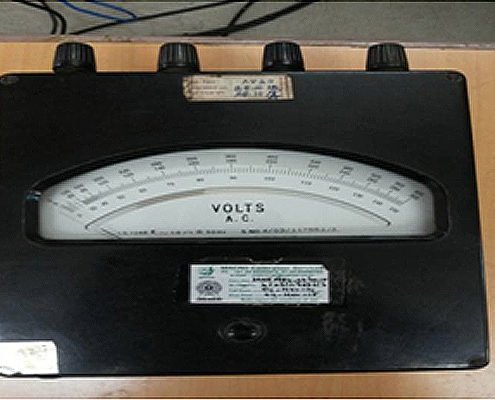 Analog bench type  MOTWANE make multi meter AC/DC voltage  maximum 1000v, AC/DC current maximum 10A
AE make bench type analog AC/DC watt meter unity power factor 150V, 5A, 10A, 300V/5A,10A 600V/5,10A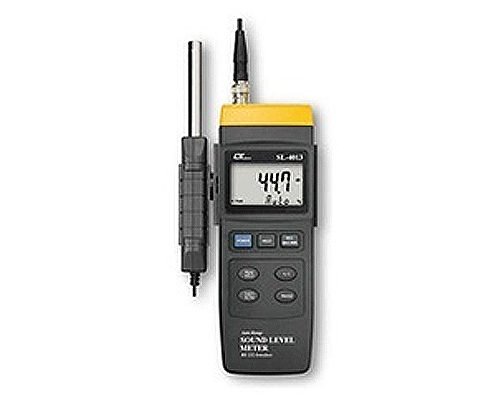 LUTRON make  SL-4013, 30-130DB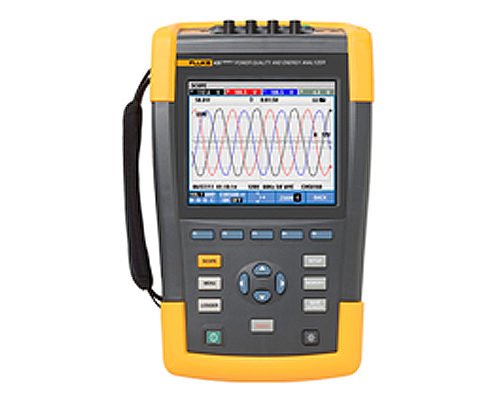 POWDER COATING THICKNESS METER
METRAVI make CTG-01 ferrous and non ferrous materials coating thickness meter
FORBES make analog
screw gauge 0-25mm
2.MITUTOYO make Digital screw gauge 0-25mm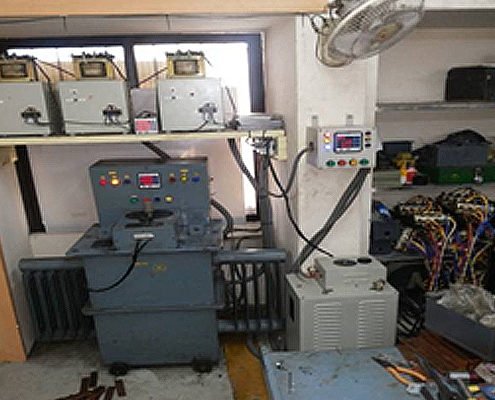 AE make Three phase oil cooled motorized auto transformer rating 0-415/470V, 60A.
APLAB make Dual channel, adjustable   0-32V dc, 0-5A type with digital indication
TEKRONIX make 60Mhz 2 Channel-1NO
GWINSTEK make 50Mhz 2 Channel
Digital oscilloscope-1NO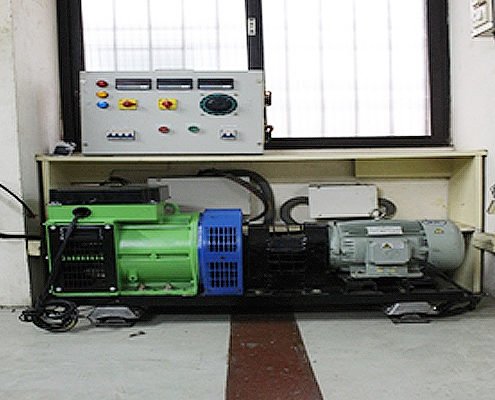 ABIRAMI ENGINEERING MAKE  10KVA CAPACITY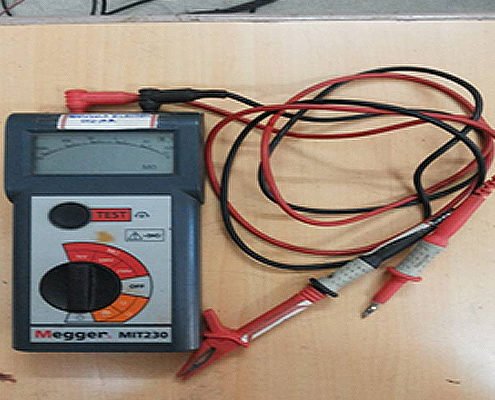 *MEGGER make digital type 250/500/1000v,1000M ohm
*WECO Analog type 1000V,500M ohm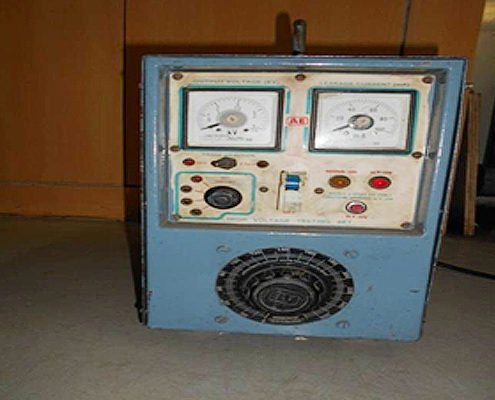 AE make 2.5kv/5 kv range 0-300mA  
NEUTRONICS make I/P 230V AC, O/P 0-10KVA, CAPACITY 500VA
MITUTOYO make 0-300mm.vernier caliper
FORBES make 0-300mm. vernier caliper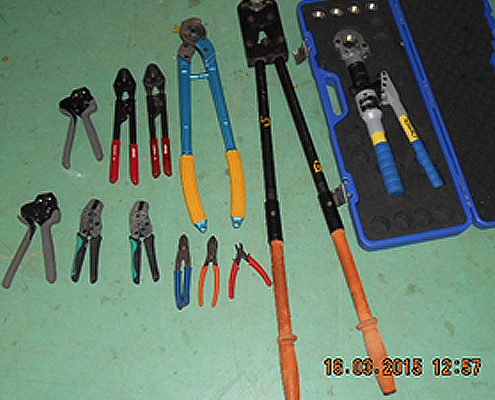 KLAUKE make maximum capacity 250 SQMM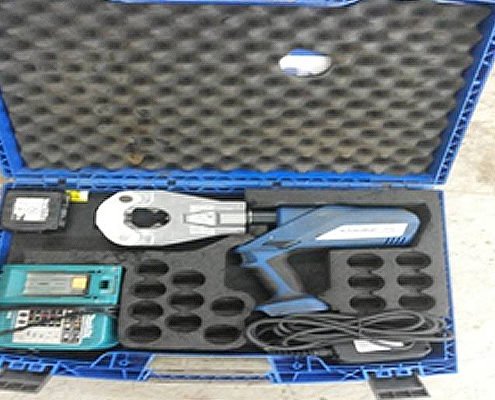 KLAUKE Make portable battery operated crimping tool